Forming the "The Bright World of Metals", the four trade fairs GIFA, METEC, THERMPROCESS, and NEWCAST will take place from June 25 – 29, 2019 at the fairgrounds in Düsseldorf, Germany, where the latest advancements for foundry technology, metallurgy, thermo-process technology, and castings will be on display.
Excellent exhibitor registration figures for the "Bright World of Metals"
About 2,100 exhibitors from all over the world will showcase their innovations at the quartet of trade fairs for foundry and metallurgical technology.
"For the first time in the more than 60-year history, we had more than 2,000 exhibitors at the 2015 staging. Therefore I am particularly pleased that we have succeeded in maintaining this high level and in confirming the dominant position of our four trade fairs," said Friedrich Kehrer, Global Portfolio Director Metals and Flow Technology at Messe Düsseldorf.
The exhibitors will present the entire spectrum of foundry technology, castings, metallurgy and thermo process technology in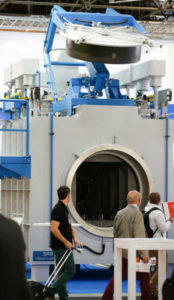 twelve halls.  As the leading trade fairs in their respective sectors, GIFA, METEC, THERMPROCESS and NEWCAST 2019 will cover the most important trends – including additive manufacturing (with a special show in Hall 3 and the "Metal 3D Printing" conference on June 26) and Industry 4.0 as well as lightweight structures in the automotive industry. The international reach of the four trade fairs is expected to be very broad again this year. Usually, more than 50% of the 78,000 trade visitors from overseas and other European countries.
ecoMetals & ecoMetals Trails 
The ecoMetals campaign by Messe Düsseldorf is an established and successful feature at the "Bright World of Metals". The emphasis this year will again be on environmentally sound operation and production in the sector, with resource and energy efficiency, climate protection and innovative processes and products as the main topic. About 30 exhibitors will participate under the heading "ecoMetals@Bright World of Metals" and the "ecoMetals Trails" will offer visitors guided tours.
Bright World of Metals: 4 Trade Fairs Under One Roof
GIFA, METEC, THERMPROCESS and NEWCAST are independent trade fairs but together form the "Bright World of Metals". At GIFA, the International Foundry Trade Fair and Technical Forum, about 900 exhibitors from 47 countries will display their products in Halls 10 to 13 and 15 to 17. Participating world market leaders will include Bühler AG (Switzerland), ASK Chemicals GmbH (Germany), FOSECO (Germany), Hüttenes Albertus (Germany), Loramendi S. Coop (Spain) and Vesuvius GmbH (Germany). There will also be large country group exhibits from Italy and China.
NEWCAST is fully booked
NEWCAST, the 5th International Trade Fair for Castings with the Newcast Forum, is fully booked for its 5th anniversary. Some 400 exhibitors from more than 30 nations will demonstrate in Halls 13 and 14 how global the production of castings has become. Market leaders such as Finoba Automotive GmbH (Germany), GOM GmbH (Germany), Gießerei Heunisch (Germany), Eisenwerk Brühl (Germany), Kimura Foundry Co. Ltd. (Japan), Kutes Metal Inc. (Turkey) and Waupaca Foundry (U.S.) will participate. The Fraunhofer Institute for Manufacturing Technology and Advanced Materials/IFAM (Germany) will also be represented. The foundry associations from Croatia, Mexico, and Hungary will be at NEWCAST for the first time.
METEC 2019: New Record for Its 10th Anniversary
METEC, the 10th International Metallurgical Trade Fair, will feature the large plant manufacturers. With 530 from 34 countries so far,  METEC is setting a new exhibitor record this year. Inteco (Austria), Primetals Technologies Ltd. (UK), RHI Magnesita (Austria), SMS Group (Germany) und Tenova S.P.A. (Italy) are among the exhibitors. Forged components will be on show at METEC for the first time. These were previously part of NEWCAST, but due to their increased importance they are better suited to the metallurgy trade fair.
Industry Leaders at THERMPROCESS
With 300 exhibitors and 50% foreign participation, THERMPROCESS, the 12th International Trade Fair and Symposium for Thermo Process Technology, is the top event for international equipment suppliers. This is reflected in the list of exhibitors including many of the industry leaders: Aichelin Holding GmbH (Germany), Ajax Tocco Magnethermic GmbH (Germany), Andritz Maerz GmbH (Germany), Honeywell Thermal Solutions (Germany), Inductotherm Group (U.S.) and ITG Induktionsanlagen GmbH (Germany).
For further information on visiting or exhibiting at GIFA, METEC, THERMPROCESS, or NEWCAST 2019, contact Messe Düsseldorf North America, 150 North Michigan Avenue, Suite 2920, Chicago, IL 60601. Telephone: (312) 781-5180; Fax: (312) 781-5188; E-mail: info@nullmdna.com. Visit the web site http://www.mdna.com, subscribe to the blog at http://blog.mdna.com, or follow on Twitter http://twitter.com/Industrial_MDNA
For hotel and travel information, contact TTI Travel, Inc. at (866) 674-3476; Fax: (212) 674-3477; E-mail: info@nullttitravel.net; www.traveltradeint.com
Further information:  www.tbwom.com
Twitter: www.twitter.com/tbwom
Facebook: http://www.facebook.com/TheBrightWorldofMetals
LinkedIn: http://www.linkedin.com/groups/7442674
World Foundrymen Organization: www.thewfo.com
ESTAD, the "European Steel Technology and Application Days": www.metec-estad2019.com
German Society of Metallurgists and Miners/GDMB: www.emc.gdmb.de