Forming the "The Bright World of Metals", the four trade fairs GIFA, METEC, THERMPROCESS, and NEWCAST will take place from June 25 – 29, 2019 at the fairgrounds in Düsseldorf, Germany. The latest advancements for foundry technology, metallurgy, thermo-process technology, and castings will be on display in halls 3 to 5 and 9 to 17.
The range presented at GIFA 2019 will cover the entire market for foundry plants and equipment, die-casting machinery and melting operations. METEC 2019 will present plant and equipment for iron and steel making, non-ferrous metal production and for casting and pouring molten steel as well as rolling and steel mills. Industrial furnaces, industrial heat treatment plants and thermal processes will be showcased at THERMPROCESS 2019, while NEWCAST 2019 will focus on the presentation of castings.
The trade fair quartet will be complemented by an extensive ancillary program. During GIFA 2019, the World Foundrymen Organization will hold the WFO Technical Forum – the international conference for the process technology industry, and the National Association of the German Foundry Industry (BDG) will organize the GIFA Conference. ESTAD, the "European Steel Technology and Application Days", organized by the VDEh Steel
Institute in cooperation with Messe Düsseldorf, will be a major feature at METEC 2019. The five-day ESTAD will begin on June 24, a day before METEC starts, addressing "Industry 4.0" issues as well as the latest technologies for steel and iron production, surface treatment, additive manufacturing technologies, and energy and environmental topics. Another important event at METEC will be the "European Metallurgical Conference (EMC) organized by the German Society of Metallurgists and Miners/GDMB from June 23 – 26, 2019.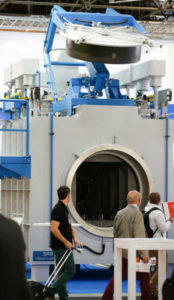 At THERMPROCESS 2019 the FOGI Special Show organized by VDMA Forschungsgemeinschaft Industrieofenbau e.V. and the THERMPROCESS Symposium organized by VDMA Metallurgy will complement the exhibits. Special events at NEWCAST 2019 will be the NEWCAST Forum organized by the Association of German Foundrymen (VDG) and the NEWCAST Award.
When last held in 2015, the four trade fairs attracted 78,000 visitors from more than 120 countries and 2,214 exhibitors. International participation increased again compared to the previous event:  56% of the visitors and 51% of the exhibitors came from outside Germany.
For further information on visiting or exhibiting at GIFA, METEC, THERMPROCESS, or NEWCAST 2019, contact Messe Düsseldorf North America, 150 North Michigan Avenue, Suite 2920, Chicago, IL 60601. Telephone: (312) 781-5180; Fax: (312) 781-5188; E-mail: info@nullmdna.com. Visit the web site http://www.mdna.com, subscribe to the blog at http://blog.mdna.com, or follow on Twitter http://twitter.com/Industrial_MDNA
For hotel and travel information, contact TTI Travel, Inc. at (866) 674-3476; Fax: (212) 674-3477; E-mail: info@nullttitravel.net; www.traveltradeint.com
Further information:  www.tbwom.com
Twitter: www.twitter.com/tbwom
Facebook: http://www.facebook.com/TheBrightWorldofMetals
LinkedIn: http://www.linkedin.com/groups/7442674
World Foundrymen Organization: www.thewfo.com
ESTAD, the "European Steel Technology and Application Days": www.metec-estad2019.com
German Society of Metallurgists and Miners/GDMB: www.emc.gdmb.de