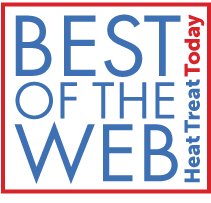 Heat Treat Today continually searches a large number of web-based resources looking for the most useful heat treat news, technologies, and tips – information that will help your in-house heat treat department be more productive and profitable. We have no "pride in authorship" so we'll pull the best resources from anywhere reputable on the Web.
If you're looking for the "Best of the Web," visit Heat Treat Today regularly.
If you have a web-based resource that you find helpful, please send us a link along with your name if you'd like credit. We're glad to give credit where credit is due. Send us an email at HTTWebMail@nullHeatTreatToday.com.