Special Message from Heat Treat Today Publisher, Doug Glenn
Finding and retaining young talent is one of the most difficult challenges for nearly all manufacturers with in-house heat treat operations. It is also a major challenge for commercial heat treat shops and heat treat equipment and component suppliers. Beyond the initial difficulty of finding someone who can pass a drug test (!), there is the more persistent problem of finding and retaining good engineering and business minds.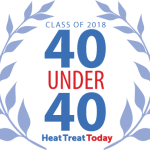 When you do find that talent, it's important to recognize it and reward it.
To help you recognize and reward the young talent in your organization — or, if you're a supplier to the industry, in your customer's organization — Heat Treat Today is officially opening nominations for 40 Under 40 the Class of 2018. This inaugural class will be comprised of 40 individuals UNDER THE AGE OF 40 who are significant contributors to the heat treat industry. We'll give them widespread exposure through our website, our social media platforms, and through a special print edition later this year.
Nominations open today (7/9/18) and close on August 15th.
It is super quick and easy to nominate someone.
Simply click on the "Nominate Now!" button to the right. Each nomination should take no more than 5 minutes to complete and it will be sincerely appreciated. If you'd like to read more about 40 Under 40, click on the 40 Under 40 logo above and you'll be taken to a page with more details.
Don't miss this great opportunity to recognize the young heat treat talent in your organization. Nominate someone today!
If you have any questions, please contact me directly by email (click here).